A Cosby Memorable Mother's Day
— 3 June 2014
If laughter is the best medicine, then nearly 5,000 folks from all over Central Georgia and around the country now have less health costs to worry about. So who and what do they have to thank for this boon in their household economies? Iconic actor and comedian, Dr. Bill Cosby, is who…and his side splitting brand of humor is what—courtesy of "A Cosby Memorable Mother's Day" visit to Macon.
As a part of his "Far From Finished" tour, Cosby held court on the evening of May 11 at the Macon City Auditorium, much to the delight of a multitude of appreciative men, women and children of varying races and ages.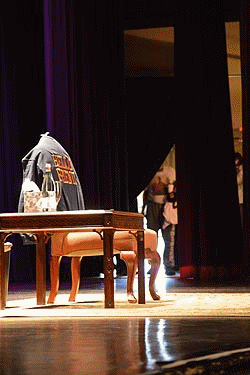 The 76 year old star of I Spy and The Cosby Show proved every bit as easy going and accessible as the characters he portrayed while working in television. Decked out in a printed tee shirt, sweat pants and enclosed Earth sandals, Cosby entered the staged uneventfully, took his seat and let out a hardy, "Good Eveeening", before asking the soundman to put on and turn up a stirring song by the legendary singer, Marion Anderson.
After listening intently along with the audience, a bearded Cosby set the tone for the night by starting out discussing the Book of Genesis, but not in the traditional sense. The Cosby version describes Adam's response to God's command to him regarding the naming of animals.
"God came upon Adam and said that I'm going to create some 60 million species of things and I need for you to name them," said Cosby, as the audience hinged on his finish.
"Adam's response was not…huh?! No, Adam did it."
Cosby also used the Bible's first book as a reference concerning the complicated relationship between men and women, experienced initially by the world's very first family. Alluding to Adam seeing Eve for the first time, Cosby eyes went wide as he mimicked Adam's response.
"First of all, he didn't know what was coming. Adam for the first time I assume took a nap," Cosby said. "When God brought Eve out to meet her mate he (Adam) was napping, which to most women looks like sleeping. He woke up, saw HER and meant to name her woman, but when he saw her face and her body, he said, 'WHOA-MAN!!!'"
This matter of fact brand of comedy tingled with intrigue! Insight and interest kept the audience on its toes and close to tears for most of Cosby's second appearance in Macon. He had visited the mid-state initially a few years ago.
Bibb County School Board member Dr. Thelma Dillard attended the concert with her daughter, Cartise. The two used the event to cap off a special Mother's Day weekend, which began with Cartise graduating from Mercer University the previous day. The elder Dillard, who also served on the former Macon City Council and even ran for mayor on a couple of occasions, spoke highly of Cosby's visit a few days later following the concert. She commented, "We don't often get a chance to see the likes of Bill Cosby in Macon. It was an honor to spend the evening with my daughter and a man that tells a story about life and makes it very interesting. And he keeps it clean. It was a great treat."
Macon won in more ways than one with the Cosby visit. During a stop on the Arsenio Hall Show prior to hitting town, Cosby reeled off his Mother's Day agenda, along with other cities to which he was headed, as well.
Dillard says that Cosby choosing to revisit Macon—especially on Mother's Day—is a big deal. "This visit says that Macon has a lot to offer in terms of the arts and entertainment," Dillard insists. "Cosby thought enough of us to come back because he wanted to be well received. I think he felt that Macon would appreciate him. He wanted to be well received and he was."