Whatever Happened To Grace Jones?

Some years ago, I frequented Limelight, a dance club on the upper northwest side of Atlanta. On one particular Saturday afternoon, the place was charged in anticipation of a rare live performance by Grace Jones, the contralto pop diva. It was an exciting time for those of us who loved to dance because disco was still alive and kicking, having not yet seen its full demise.
At the time, the Limelight was a new and well-marketed dance club with lots of cache—it was very fresh and clean and full of life during this time, before it acquired the nickname Slimelight. The only hint of "the negative" had recently occured when the owners were forced to release the two big cats housed in a glass "vault" under the dance floor.
The night of this particular event was not long after Grace Jones had hit the charts with Pull Up to the Bumper, the second single released from her critically-acclaimed 1981 album Nightclubbing, so everyone was supercharged about seeing this HOT chart-topping artist. We arrived early, around 8 p.m. for the performance scheduled at 10, to commandeer a choice spot before the place filled. Even at this early hour, the music in Limelight was blasting, the bass was booming, the disco balls were sparkling, the fog machines were smoking, and the atmosphere was electric. We headed for the dance floor where we planned to pass the time until the show started.
Grace Jones was one of those artists with a reputation for being late (and not the only one—I could tell you a story about waiting for Sly & the Family Stone in Birmingham—whatever happened to them, anyway?!), but we dismissed that as a trivial rumor because "she would never do that to us." We danced for a while and the time passed, then 10:00 p.m. came and went. An hour or so later we began to debate whether we should abandon any hope of seeing Grace Jones or just fight to stay awake in hopes that "the diva" might eventually appear.
To this day, I'm glad we decided to stay, because we were richly rewarded with one of the most entertaining live concerts I've ever attended, though—true to form—Grace Jones was late and the show didn't begin until 1:00 a.m. She performed most of her top hits and ventured close to "the bizarre" when she jumped onto the backs of some people in the audience (no surprise to us, given her reputation for being controversial). Needless to say, we left Limelight knowing we had gotten our money's worth, even if it had almost taken all night!
Short Bio:
Born in Jamaica and raised in New York state, Grace Jones studied theater in college and began her career as a model in New York and Paris. She eventually maintained parallel recording and acting careers, and modeling work often overshadowed her musical output. Her strong visual presence (almost 6-feet tall in her stocking feet, masculine cross-dressing style, trademark flat-top haircut, deep richly-accented voice) extended to her concert tours.
Current Sightings: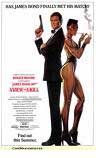 My most recent notice of Grace Jones is from 1985, when she played that crazy and unstable villianous sidekick-of-a-character, to the equally-edgy character played by Christopher Walken, in the James Bond installment, View to A Kill.
Though it appears that Grace Jones continues to record music and perform live concerts, she is apparently laying low and staying under the radar in the States. Today, she is in her early 60s and hasn't been in the high-profile spotlight for many years now.
Wikipedia states:
New remastered editions of "Portfolio", "Muse", and "Fame" are set to be released in 2009. This will mark the first time "Muse" has been commercially available on CD. Also on the way is a 2 CD Deluxe Edition of "Nightclubbing" from Island Records to coincide with the record labels 50th Anniversary.
On 9 August 2009 Jones performed a full set at 'Space' – a nightclub on Ibiza island, Spain.
Grace Jones collaborated with the avant-garde poet Brigitte Fontaine in a duet named " Soufi " from Fontaine's latest work released in the fall of 2009.
Where are you, Grace? We miss you in the U.S.! Hey, has anybody here seen Grace Jones lately??