Snoopathon: Charade
Every classic film buff—especially if they are a fan of Cary Grant or Audrey Hepburn—is familiar with Charade, which surely they've seen several times over. They already know the plot about the recently widowed woman who finds herself being pursued by a grim group from the CIA, OSS, and who knows from where else. They all want the gold her murdered husband stole from them and the French Resistance during World War II.
Does she have the fortune he left behind? If not, who has it, where is it, and how can they get their hands on it?
Charade is one of those films that defies categorization, so it appropriately befits its own title. Pick a source and you're likely to get a different label: romance, comedy, romantic comedy, thriller, mystery, romantic mystery, romantic thriller, comic thriller, suspense thriller, mystery farce, whodunit, spellbinder, spy thriller.
You can bet that Charade comfortably fits in any of those genres, and it offers a top-notch script noted for its repartee between the leading characters, features experienced actors who give strong performances, and provides a refreshingly light cadence during a time when the country needed an uplifting experience.
I won't retell the story here, because you probably already know it. Instead, I've compiled a few behind-the-scene items related to the film and making of the film since I'm a lover of "The Backstory." I've included also a few side notes about some of the personalities involved with the film. I don't ignore the storyline altogether, however, and have created an infographic about Charade—you can take that journey here!
Meanwhile, The Backstory…
Charade /SHəˈrād/ ~ noun: often means a pretense or faked act; deception.
The early minutes of Charade were taped in Megève, Switzerland and the French Alps, but most of the film's 113 minutes were recorded on sets and on location in Paris, in a ramshackle Latin Quarter hotel and in areas of the Tuileries district, in October 1962.
Charade was the only film to star both Cary Grant and Audrey Hepburn, though their pairing almost happened in Roman Holiday, Sabrina, and Love in the Afternoon. Grant was offered the male lead in each of those films, but didn't accept them. He also was asked to play Professor Higgins in My Fair Lady, but turned it down out of respect for Rex Harrison, who had created the role on Broadway. And Grant wanted Hepburn to co-star with him in Father Goose, but she had other commitments—the filming of My Fair Lady being one of them—so Leslie Caron got the part.
Cary Grant turned 59 during the filming of Charade and he is reported to have been sensitive about the 25-year age difference between him and Hepburn, so the script was rewritten to address his concerns about his character being the aggressor to a young woman. Hepburn's character became the pursuer and, even with that, his awkwardness about being the romantic lead to a much younger woman is obvious on screen. However, he successfully uses the discomfort to his advantage and effectively conveys his character's apprehension in the situation, even if it was in reality also his own. By the way, Charade was Grant's last film as romantic lead and he made only two more films before officially retiring in 1966.
The date of Audrey Hepburn's 34th birthday, 4 May 1963, is displayed on the receipt in Charles Lampert's possessions that were found on the train. Other items in his evidence bag included four passports, one each from Switzerland, the United States, Chile, and Italy.
The stamps depicted in Charade—valued at $250,000 in the film—are fictional versions of real rare stamps, which were valued at $1.8 million dollars (USD) when the movie was released in 1963. The same stamps in reality were valued at almost $4 million in 2011, which is the last time any of the real stamps was sold.
Though largely unheralded in Charade, Walter Matthau went on prove himself as a gifted comic actor; he won the 1966 Academy Award for Best Supporting Actor for The Fortune Cookie. An interesting note here is that the prolific film and television actor, Ned Glass, who played a conspirator in Charade, also had a role in The Fortune Cookie.
James Coburn, George Kennedy, Walter Matthau, and Ned Glass are the only co-stars of Charade to appear in more than one English language feature film in 1963. Coburn appeared in The Great Escape, The Man from Galveston, and Kings of the Sun. Kennedy's additional 1963 credits include The Silent Witness and The Man from the Diner's Club. Matthau was a player in Island of Love. Glass made an appearance in Papa's Delicate Condition.
Charade features an international cast of actors of American, British, French, Polish, Belgian, and Russian nationality.
Charade included an interesting array of extras. The voice of author and screenwriter Perry Stone is dubbed in for that of the Marine in front of the Embassy. Also, Stone appears as the man in the Embassy elevator telling the story about the poker game, but his voice is dubbed by director Stanley Donen. Audrey Hepburn's husband, Mel Ferrer, briefly appears smoking a cigarette in the background at the nightclub.
In the final edit of Charade, which opened just weeks after John Fitzgerald Kennedy was killed, the word "assassinate" is over-dubbed as "eliminate." Some public domain copies still contain the original, unedited phrasing.
Charade was released the same year as Cleopatra, the 20th Century Fox production thought by some to be the best comedy of the year, which passed over nominees that included Audrey Hepburn and others in favor of Elizabeth Taylor in the lead female role. A critical and financial success, Charade was the fifth most profitable movie of 1963 and it also broke the box office record of any previous film at Radio City Music Hall in New York, while the bloated Cleopatra took many years to break even.
The best of the imitation Hitchcockian films, Charade is popularly considered the greatest Hitchcock film that Alfred Hitchcock never made. During the time the film was produced, the legendary director was largely inactive due to studio budget tightening. Charade, which was favorably compared to Hitchcock 's best work, was much more critically successful than The Birds, which was released the same year.
Stars in Charade that were earlier or later directed by Alfred Hitchcock include Cary Grant and Paul Bonifas. Although Walter Matthau and James Coburn appeared in several episodes of the Alfred Hitchcock Presents television series, neither ever worked under the direction of Hitchcock.
Producer and journalist, Bruce Eder, mentions in his essay for the 2004 Criterion Collection DVD release, "The Spy in Givenchy," that Charade was the only successful take on the spy genre to place a woman at its center. He states that this was established at the beginning of the film and it "boldly separated Charade from its rivals."
Charade—Five Minute Version…
Award Wins…
BAFTA for Best British Actress (Audrey Hepburn, her third)
Edgar for Best Motion Picture Screenplay (Perry Stone)
Award Nominations…
Academy Award for Best Original Song (Henry Mancini and Johnny Mercer, "Charade")
AFI's 100 Years…100 Laughs (2000)
AFI's 100 Years…100 Thrills (2001)
AFI's 100 Years…100 Passions (2002)
AFI's 100 Years of Film Scores (2005)
BAFTA for Best Foreign Actor (Cary Grant)
Golden Globe for Best Motion Picture Actor, Musical or Comedy (Cary Grant)
Golden Globe for Best Motion Picture Actress, Musical or Comedy (Audrey Hepburn)
Golden Laurel for Top Comedy
Golden Laurel for Top Male Comedy Performance (Cary Grant)
Golden Laurel for Top Female Comedy Performance (Audrey Hepburn)
Golden Laurel for Top Song (Henry Mancini and Johnny Mercer, "Charade")
WGA for Best Written American Comedy (Perry Stone)
More Reading…
• Charade: The Last Sparkle of Hollywood
• Criterion Essay by Bruce Eder
• Now a Medical Professor, 50 Years Ago He Was in 'Charade'
• Charade on Pinterest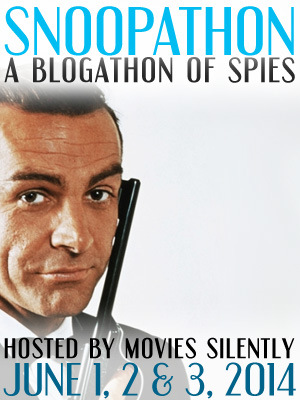 This article is my entry in the
"Snoopathon Classic Spy Blogathon"
hosted by Fritzi at Movies, Silently,
June 1–3, 2014.
Visit the Snoopathon and meet the greatest spies in film!