Thunderbirds Are Go!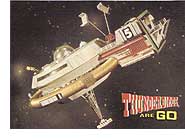 In the year 2065, the intrepid members of the International Rescue Team are the last and best defense against disaster. At the first sign of trouble, the Tracy family and their courageous colleagues are ready for action, racing to danger in their Thunderbirds, an incredible array of high-tech vehicles, to undertake and engineer extraordinary rescues.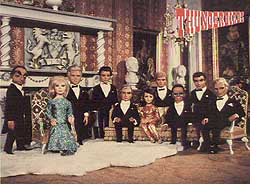 In the photo at left, we have the whole of International Rescue Team sitting in a family portrait. From left to right: Ex-safecracker-turned-chauffeur Parker, socialite spy Lady Penelope Creighton-Ward of the London office, Alan Tracy of Thunderbird 3, Scott Tracy of Thunderbird 1, Jeff Tracy of Tracy Island Headquarters, Technical Equipment Maintenance Chief Tin Tin, Gordon Tracy of Thunderbird 4, Engineer Brains, Virgil Tracy or Thunderbird 2, and John Tracy of Thunderbird 5.
Gerry Anderson's cult sci-fi series Thunderbirds (1964-1966) employed a unique form of puppetry—known as super-marionation—to tell the story of a family of heroes who travel through outer space on rescue missions. Supermarionation involves marionettes with extremely fine wires, electronics controlling certain aspects of the puppets' movements, and voice boxes inside their heads (and later, in their chests) that synchronized the mouth movements with the vocal tracks.
The 32 episodes of Thunderbirds are some of the most fondly remembered television ever made, an outstanding achievement for a puppet series that ended production in 1966! Just what it is about the secret world of International Rescue that gives the show its longevity is hard to describe but for its fans its magic is self-evident.
The Thunderbirds were recreated in 2004 in a feature film, directed by Jonathan Franks and starring Bill Paxton, Brady Corbet, Ben Kingsley, Anthony Edwards, Sophia Myles.
The entire production can be obtained on DVD in a 12-disc boxed collector's set called the Complete Thunderbirds DVD Megaset, a comprehensive collector's set that includes every minute of Gerry Anderson's (Captain Scarlet, Space: 1999, Stingray) masterpiece of sci-fi supermarionation. Two complete bonus programs—The Brains Behind Thunderbirds and The Making of Thunderbirds (see Volume 12 below)—along with a host of cool DVD features make this the definitive presentation of the 1960s series that remains a global sensation. Here's a list of episodes and more:
Volume 1
Trapped in the Sky | Pit of Peril | City of Fire
Volume 2
Sunprobe | The Uninvited | The Mighty Atom
Volume 3
Vault of Death | Operation: Crash Dive | Move and You're Dead
Volume 4
Martian Invasion | Brink of Disaster | The Perils of Penelope
Volume 5
Terror in New York City | End of the Road | Day of Disaster
Volume 6
Edge of Impact | Desperate Intruder | 30 Minutes After Noon
Volume 7
The Imposters | The Man From M.I.5 | Cry Wolf
Volume 8
Danger at Ocean Deep | The Duchess Assignment
Attack of the Alligators!
Volume 9
The Cham Cham | Security Hazard | Atlantic Inferno
Volume 10
Path of Destruction | Alias Mr. Hackenbacker
Volume 11
Lord Parker's 'Oliday | Ricochet | Give or Take a Million
Volume 12
The Brains Behind Thunderbirds | The Making of Thunderbirds